Author's name withheld by request

When I was old enough to think about my own burial, I decided that I wanted to be cremated. How much room is there in cities for more cemeteries? It seemed the right choice.
Over the years, the funerals I attended were usually coffins in the ground. Occasionally, there was a small container with the remains of a cremation.
When my step-mother died, I discovered that she wanted to be cremated. The funeral director asked if anyone wanted to be present at the cremation. A dear friend of my step-mother and myself agreed to attend. They took us down to the lower level where the crematorium is located. There she was in a plain wood coffin. Her friend and I held hands over the coffin. We cried, prayed, and said good-bye to our beloved Sarah.
We were then asked if we wanted to press the button that would start the conveyer belt moving. As we pressed the button, the metal doors opened, and her coffin began to roll forward. Ahead was what looked to me like a black, smoking inferno, with flames jetting out of one side. Her box rolled into this black pit, and then the doors closed.
When I thought of Sarah's soft, smooth skin, and her lovely, thick hair being burnt, I was distraught. This was her decision but as I stood there and witnessed the process, I couldn't bear to think of her being burned and ground down to a powder. At the cemetery, a small box with her remains was placed in the ground next to mother.
I respect her decision to be cremated, but I knew that I had to reconsider my burial plans. It's not easy to imagine how to deal with one's body after death. It's a difficult decision to make, but as I recalled her coffin going into the fiery, dark inferno, I knew that my original decision would now change.
This post originally appeared on the Expired and Inspired blog of the Jewish Journal. It has been republished here with permission.
--
Have something to add? We'd love to hear from you. Please comment below to share.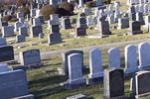 Why can't Jews be cremated?
See answers from Orthodox, Conservative and Reform rabbis
here
.
If you have a question about Jewish values that you would like to ask rabbis from multiple denominations, click
here
to enter your question. We will ask rabbis on our panel for answers and post them. You can also
search
our repository of over 700 questions and answers about Jewish values.
For more great Jewish content, please subscribe in the right hand column. Once you confirm your subscription, you'll get an email whenever new content is published to the Jewish Values Online blog.