I recently returned from a trip to the US from my home in Israel. Whenever I travel to America, shopping is always part of the journey. Israel has so many wonderful things. But it doesn't (yet) have Target. Or affordable delivery from Amazon.com.
I prepaid for a second suitcase for my return trip, knowing that I would be doing some shopping. A friend agreed to subsidize the cost of my second suitcase in exchange for being able to order some books from Amazon.
Two days into my trip, the front desk clerk at the hotel where we were staying told me some packages had arrived for me. He stacked about eight packages on the front desk.
"There's one more," he said. "It's heavy."
"Okay, let me take these now and I'll come back for the heavy one," I replied.

A few evenings later, I was ready to take the heavy box to my room. A different clerk located the box and set it on the front desk.
There was no way I could even move it.
It had to weigh at least 75 pounds.

I needed help just to bring the box to my room. When I opened it, I was confused. I expected books. But what I found was 25 smaller cardboard boxes, each containing an identical combination wrench tool.

I was overcome with a flush of annoyance. I agreed to bring books home for my friend, but wrench tools!? And why did she need 25 of the exact same item? And further, how in the world did she expect me to bring 75 pounds of cast iron back to Israel??

My mind went racing. Here I was trying to help out a friend and she was taking advantage of my kindness. My annoyance deepened and I felt angry. Getting these wrenches home would take a lot more effort (and money for overweight luggage) than I had planned on. Over and over, I thought about how unreasonable my friend was being.
I texted her a picture of one of the combination wrench tools with a message that demanded an explanation.

She texted back, "You are kidding right? Of course I ordered no tools!"
In the end, the mistaken delivery was Amazon's error.
The aggravation, however, was caused by my own mistake. I should have had in mind the importance of the Jewish teaching
dan l'chaf zchut
, which is the absolute obligation to give people the benefit of the doubt, to judge them favorably.
If I had given her the benefit of the doubt, my first thought would have been "What a crazy mistake!" instead of "How can she expect me to schlep these home!?" If I had been thinking
dan l'chaf zchut
, I would have saved myself a lot of irritation and unkind thoughts about my very sweet-natured friend.
Since I'm now thinking about the importance of
dan l'chaf zchut,
I probably should reread
The Other Side of the Story
by Yehudis Samet. The book contains 180 stories, like mine, about how easy it is to misjudge others, until we know the other side of the story. In addition,
here
you'll find over 100 other stories that can help you learn how not to make the same mistake I did, jumping to the wrong conclusion.
Judaism isn't only about rituals. It's also about refining one's character. And it took a 75-pound box of Ohuhu Ar-15 Combo Wrench Tools for me to relearn my lesson.
---
Have something to add? We'd love to hear from you. Please comment below to share.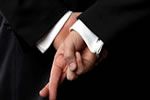 How can someone earn trust and be believed after lying?
See answers from Orthodox, Conservative and Reform rabbis
here
.
If you have a question about Jewish values that you would like to ask rabbis from multiple denominations, click
here
to enter your question. We will ask rabbis on our panel for answers and post them. You can also
search
our repository of over 700 questions and answers about Jewish values.
For more great Jewish content, please subscribe in the right hand column. Once you confirm your subscription, you'll get an email whenever new content is published to the Jewish Values Online blog.