After watching a series of documentaries about the negative health consequences of a meat-heavy diet, I gave up eating meat a few years ago. I didn't want to die of a heart attack or face the other health complications that I began to understand come from eating too much meat. That was pretty much my entire rationale.
Once a Jewish person starts exploring the issue of whether or not meat is a good dietary choice, it doesn't take long to discover that there are very serious and deeply disturbing abuses of animals that occur during the process of producing animal-based foods such as meat, dairy and eggs. In factory farms, animals are repeatedly subjected to conditions that no feeling human being could consider humane.

So right away, there's the issue of benefitting from tzaar baalei chayim, the Jewish idea that we are not allowed to inflict pain on animals. If meat (and dairy and eggs) come to us from factory farms in which animals are raised under extraordinarily cruel conditions, how can we eat these animal foods without transgressing the prohibition of tzaar baalei chayim?

And yet, as Jews, we associate meat and fish with Shabbat and holiday meals. Hello chicken soup. Hello gefilte fish. Hello brisket. There is even a Jewish school of thought that raises eating meat at a Shabbat or holiday meal to the level of a mitzvah.

So we have two Jewish values in conflict.
The Jewish Values Online panel took on the question of whether being a vegetarian was consistent with Jewish values. You can read their full answers
here
, but I want to point out a few highlights.
Writing from an Orthodox perspective, Rabbi Sanford Shudnow uses Biblical verses from the Book of Genesis to make his case that "we clearly see that God intended his humans and animals to be vegetarians." Rabbi Shudnow further notes that God made a new covenant in the generation of Noah and he says, "It certainly appears from this that God is making a concession to human beings from this point onward that they may eat meat. "
Conservative Rabbi Philip Weintraub makes a similar point. "Thus we can see that the original intent for humans was for us to be vegetarians, but due to our bloodlust, we were reluctantly permitted to eat meat."
Reform Rabbi Yair Robinson agrees with his colleagues, adding the idea that, "The rabbis also point out that, while meat eating is done for the purpose of
simcha
, it should be done sparingly to avoid violating the principle of
bal taschit
(do not waste)."
Interestingly, the animals whose flesh humans most commonly eat today, including cows and chickens, are primarily vegetarians themselves.
All three rabbis agree that God's original plan was for humans to live with the highest level of moral sensitivity and therefore avoid eating animals. However, as a concession to our moral failings, God granted permission for humans to eat animals in the generation of Noah. Note that the laws of kashrut help reign in what Rabbi Weintraub called "our bloodlust".

An interesting final point was made by Rav Avraham Yitzhak Hacohen Kook, who was the first Ashkenazi chief rabbi of Palestine, before the creation of the State of Israel. Rav Kook taught that, during the End of Days, things will revert back to God's original plan. At that time, we will become more spiritual and killing animals to consume their flesh will once again be prohibited.
---
Have something to add? We'd love to hear from you. Please comment below to share.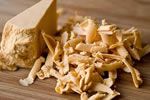 Can you mix non-dairy vegan cheese with meat and have it be considered kosher?
See answers from Orthodox, Conservative and Reform rabbis
here
.
If you have a question about Jewish values that you would like to ask rabbis from multiple denominations, click
here
to enter your question. We will ask rabbis on our panel for answers and post them. You can also
search
our repository of over 700 questions and answers about Jewish values.
For more great Jewish content, please subscribe in the right hand column. Once you confirm your subscription, you'll get an email whenever new content is published to the Jewish Values Online blog.