This was originally going to be a blog post about the jarring things I saw on a recent trip to America.
Hashem sent my husband and me to Dallas, TX to meet with Christians. After living so long in Israel, every time I go back to America for a visit, so many things strike me, things I likely didn't notice when I lived in America.
I had planned to write about the things that jumped out at me and screamed, "You're not in Jerusalem anymore." Things like the ubiquitous Christmas music and Christmas tree ornaments, the Boar's Head ham display in the front of the grocery story, the pumpkin spice M&Ms (on clearance after Halloween), the twenty kinds of peanut butter and the scented trash bags.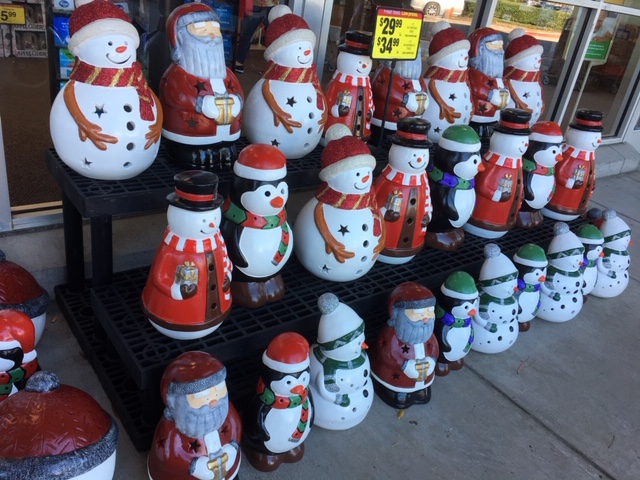 But then I realized that the more interesting part of the trip has been the people.
I used the Lyft app for the first time this week to arrange rides when we didn't have access to a car. We got Lyfts from more than a dozen drivers in Dallas, including one from the Democratic Republic of the Congo. In the car with three other Israelis, upon hearing where we live, the Congolese driver exclaimed, "You're from Israel? Your people are blessed!"
We experienced a similar moment of recognition as we exited the airport after one of our domestic legs. There were two Haitian taxi drivers waiting by the doors, trying to grab a fare. As my husband and I stepped out, dragging our luggage behind us, the taller of the two shouted, "Shalom!"
It was a sweet moment that reminded me of home.
Not everything we experienced was as pleasant. Stepping into a local supermarket, one of my Israeli companions spotted a tract – a small religious pamphlet. On the cover was an Israeli flag and the title LOVE THE JEWISH PEOPLE.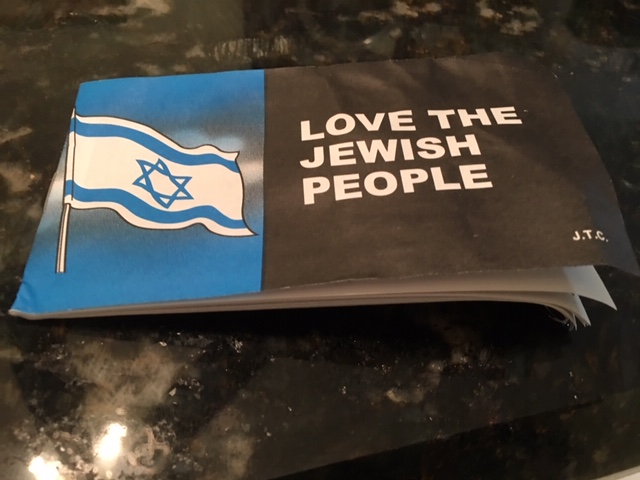 The first 17 pages of this little publication describe how nations – including Egypt, England and Russia - that harmed Israel suffered consequences. It's not until the final pages that the tract reveals that Jesus is Israel's messiah who will "burst through the clouds and save her."
Whoever left that bit of propaganda at the entrance to the grocery store might not be so happy to know that it landed in the hands of an Orthodox Jew from Israel.
The proselytizing tract notwithstanding, there were other delightful moments and other memorable people to meet.
In a huge mall in North Dallas, all but devoid of shoppers on a random Wednesday morning in late November, one of my companions spotted a menorah on a kiosk filled with crosses made from olive wood. At the kiosk, we met Walid (pictured above with me and my husband), a Muslim from Bet Lechem (Bethlehem). Walid lives less than 15 miles from my home in Israel. We met 7,000 miles from Jerusalem and talked about peace.
By far, the most precious moment happened after a presentation at a church in a Dallas suburb. After the formal program ended, my companions and I stepped off the stage to speak with audience members more personally.
One mother came forward with her two young daughters. I had brought some trinkets from Israel to distribute – keychains, scarves and packs of kosher gum. I saw the older daughter grasping one of the keychains. She was an 11 year-old
girl, wearing a winter hat with exceedingly long ear flaps.
Her mother told me, "She has a heart for Israel." The girl said not one word, but came close and gave me a shy hug, completely unprompted.

I suspect I was the first Israeli woman she had ever met.

To her, I believe I was Israel personified.
In that moment, I felt certain I understood why Hashem had sent me to Dallas.

I pray that young girl gets to visit Israel. And may Hashem bless me with the ability to greet her from here.
Please note: All opinions expressed in Blog Postings and comments on the Jewish Values Online site and through Jewish Values Online are those of the author, and do not necessarily reflect the views, thoughts, beliefs, or position of Jewish Values Online, or those associated with it.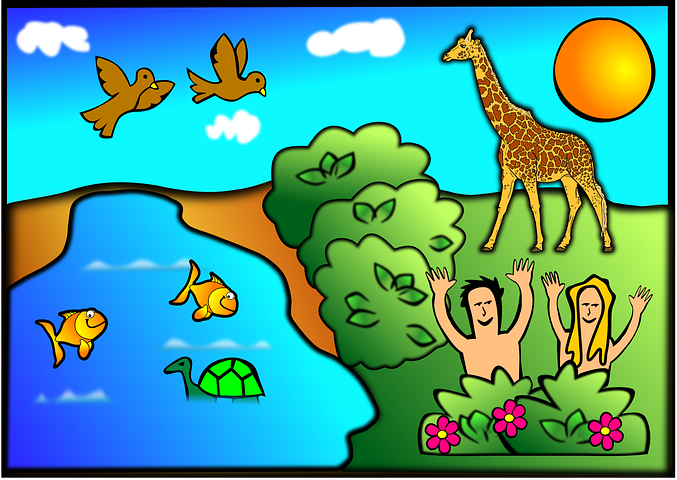 If Adam and Eve didn't have any girls, who did, or who had the next generation?
See answers from Orthodox, Conservative and Reform rabbis
here
.
If you have a question about Jewish values that you would like to ask rabbis from multiple denominations, click
here
to enter your question. We will ask rabbis on our panel for answers and post them. You can also
search
our repository of over 800 questions and answers about Jewish values.
For more great Jewish content, please subscribe in the right-hand column. Once you confirm your subscription, you'll get an email whenever new content is published to the Jewish Values Online blog.