My husband tells the story about how, some years ago, immediately following the High Holidays, a Jewish woman made an appointment to meet with him in his synagogue office. She introduced herself and explained that she wanted to learn about her Jewish heritage.

Naturally, my husband was happy to accommodate her new interest in Judaism, but he was curious about what brought her in. The woman explained that she had heard an announcement on the radio that alternate side of the street parking would be suspended for Shemini Atzeret, a Jewish holiday about which she knew nothing.

Said the woman to my husband, "I'll be darned if the radio announcer knows more about Judaism than I do."

Like this woman, before I became interested in Judaism, there were many special days on the Jewish calendar I had never even heard of, let alone observed. Tisha B'Av, the 9th day of the Hebrew month of Av, which falls each year in late July or August, was one such day.
Tisha B'Av is often called the saddest day on the Jewish calendar. It has many dimensions, but its most well-known observance is a complete fast from all food and drink. Jews who recognize Tisha B'Av often spend the day in prayer and contemplation of all the tragic events that befell the Jewish people on this day in history.
Like all Jewish holidays, Tisha B'Av begins at nightfall and is ushered in with a public reading of Eicha – the Biblical Book of Lamentations, written by the prophet Jeremiah, which details the destruction of the First Temple.

Since moving to Israel, my husband and I have attended many readings of Eicha held in outdoor spaces. This year was no different. A few nights ago, we sat on the ground, as is the custom, and listened to the five sorrowful chapters of Eicha, while facing the Old City of Jerusalem and the very spot where the First and Second Temples once stood.
What was unusual this year was that our small group of Jews was accompanied by 50 or so Christians. These Christians were part of
a group who came to Jerusalem specifically to repent for 2,000 years of Christian antisemitism
and to work on building positive relationships with the Jewish people.
As a Jew who once did not know that there even was such a thing as Tisha B'Av, I was moved to be in the company of Christians who came to Jerusalem specifically to pray and ask forgiveness for a huge litany of atrocious deeds that were done to the Jewish people in the name of Christianity. As part of that experience, they attended a Jewish reading of Eicha for the first time in their lives.
Curious what it was like for Christians to experience Tisha B'Av, a day which most Jews have never even heard of, let alone observed, I asked a few of those in attendance to share some of their impressions of the experience. This is what I heard.
Steve Wearp is one of the founders of
Blessed Buy Israel
. His company works with small businesses in Judea and Samaria, helping them distribute their products outside of Israel. Blessed Buy Israel also introduces residents of Judea and Samaria as real people, rather than as stereotypical "settlers" as portrayed in the news.
Steve said, "What I pray I'm seeing is a new beginning, a fresh start between our two communities. For a long time, I've read about it. I've heard about the 9
th
of Av, but it's different when you're actually standing with people, when you're actually able to be part of the mourning, to see the passion, to see the cry, to see the yearning of the Jewish people for the fulfillment of the prophecies – the
geula
(final redemption) to be fulfilled, the Temple restored, the glory of God returned to Zion and that all Nations will be able to come up.
"What's incredible is to have the Jewish community actually welcoming us and saying 'Come walk alongside', that we can actually walk together, we're seeing each other for the first time, I think, in 2,000 years.
"The blinders are coming off and I'm seeing God in the Jewish people. I'm seeing His love, I'm seeing His truth being revealed. I think we're just at the very beginning of the story and I'm just glad to be part of what Hashem is doing today. I'm blessed to be a little part of it."
Tommy Waller, founder of
HaYovel
, an organization that brings Christians to Israel to work the Land, assisting small, independent farmers, had this to say about his experience attending the Eicha reading alongside the Jewish community.
"The event exposed, at least for myself, the deficiency I have in the Bible being personal. It's a reality to me that the Jewish people are [well-aware] that Lamentations is a book written for lamenting the Temple, the loss of Israel.
"As part of the Nations now that are joining, are wanting to align with Israel, with Jerusalem and with the Temple, it's important that we understand Lamentations. It's important that we understand the atrocities that have happened, and take ownership of our part in it and deal with it. Just reading and understanding and hearing it [read out loud] from the heart of a Jewish man was very impacting to me."
Nathalie Blackham, co-host of
IsraelFirst TV
which brings positive stories about Israel to Christians worldwide, spoke poetically about what she saw and felt. "[It was the] first time for me and my husband to be on the tayelet, the promenade, looking at the Jerusalem of Gold with many sparkling lights on the 9
th
of Av, the fatal day when the two Temples were destroyed.
"I can imagine the flames and the shouts of agony of the Levites, not just the destruction of buildings, but destruction of an era where music and incense filled the whole city, a city that carries the name of Peace. But I can see, in front of my eyes, people coming to pray together, many people came to pray on the promenade looking over the city and the Temple Mount."
Natalie described how everyday Jerusalem is now filled with old men and women, young children and the revived Hebrew language, in exact fulfillment of Biblical prophecy.


So said the Lord of Hosts: Old men and women shall yet sit in the streets of Jerusalem, each man with his staff in his hand because of old age. And the streets of the city shall be filled, with boys and girls playing in its streets. (Zechariah 8:4-5)
"We are here, a few Christians joining the Jewish people, standing with you, saying, 'We hope for the Temple to be rebuilt as a house of prayer for all Nations. We want to learn from you. We are hungry for wholeness and peace. Here we are with you, praying. May it come soon! My hands are ready to help you rebuild."
Like the woman who came to see my husband so many years ago, inspired by a radio announcer who knew more about the Jewish calendar than she did, may we, as Jews, be motivated to cherish our own heritage by the way our traditions inspire others.
Please note: All opinions expressed in Blog posts and comments on the Jewish Values Online site and through Jewish Values Online are those of the author, and do not necessarily reflect the views, thoughts, beliefs, or position of Jewish Values Online, or those associated with it.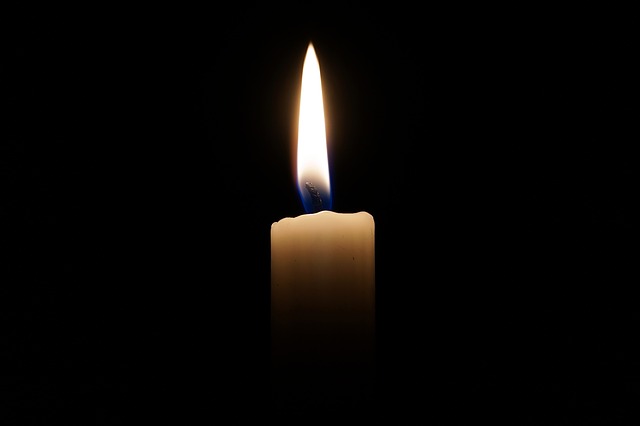 Should we fold Yom Hashoah into another remembrance day such as Tisha B'Av or the 10th of Tevet?
See answers from Orthodox, Conservative and Reform rabbis
here
.
If you have a question about Jewish values that you would like to ask rabbis from multiple denominations, click
here
to enter your question. We will ask rabbis on our panel for answers and post them. You can also
search
our repository of over 800 questions and answers about Jewish values.
For more great Jewish content, please subscribe in the right-hand column. Once you confirm your subscription, you'll get an email whenever new content is published to the Jewish Values Online blog.