One of the special pleasures of Purim in my community is that I can fulfill the requirement to listen to the Megillah read without having to sit behind a mehitza. In my Jewish community, as in others around the globe, women have taken it upon themselves to learn how to properly chant the Scroll of Esther on Purim and do so for other women.
Each time I attend a women's Megillah reading, I am grateful for the opportunity to be a central part of the congregation that comes together to hear the reading, and not an accessory in the back, behind a wall or a curtain.
In traditional Jewish synagogues around the world, men and women are separated by a partition, called a mehitza. In some synagogues, the mehitza is an engineering marvel, allowing women to see and hear everything that goes on in the main prayer space. In others, the mehitza is an oppressive barrier, reminding women that they are, at best, spectators in a prayer service run by men for men.

I have been in synagogues where the mehitza has been a thick wall with a few small windows to allow sound to travel from the synagogue to the women's section. I have been in synagogues where the mehitza allowed for visual access through glass panels but obscured all sound. I have been in synagogues where I got a headache trying to look through the openings in the cross-hatched wood to grab a glimpse at the Bar Mitzvah boy.

I have rarely been in a synagogue where I didn't resent the mehitza as reminder that my presence, as a woman, is secondary to the main purpose of the synagogue, which is to provide Orthodox Jewish men with a place to fulfill their prayer obligations. Admittedly, this is my personal, idiosyncratic reaction to being a woman in an Orthodox shul. I own this reaction 100%.

There are many Jewish women who pray in Orthodox synagogues who do not feel the same way at all. If you ask them, they might tell you that they are grateful for the opportunity to pray without the distractions that come from being on the men's side, where the public prayer service is a choreography of movement. They may tell you that they appreciate not being seen by men in their personal moments of intimate connection with God. They may tell you that they value being able to pray among a community of women.

All those things are lovely. If they were achieved separately from a men's prayer service, not at such a high cost, I would be a fan. As things stand, it doesn't work for me.

Into this portal comes a new Jewish art book called Mehitza by Myriam Tangi. Filled with mostly black-and-white images taken from the perspective of a woman seated behind a mehitza in synagogues from New York to Paris to Jerusalem, the book delves into this essential question of separation.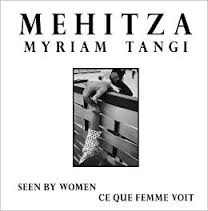 The images are accompanied by text, including a lengthy introduction by Tangi about the project and about her complicated feelings as they relate to the question of whether men and women can share a prayer space without disadvantaging one another.
Given my strong feelings about the subject, some of the images were very painful for me, particularly the ones in which the women's view of the main synagogue service is largely obscured. The image on page 85, with a single chair behind a single mehitza panel in a modest chapel, was particularly striking in illustrating the concept of woman as other in a traditional communal prayer setting.
Tangi classifies the book as "an invitation to dialogue, to interrogation." Intending the book, its images combined with the ideas presented in its text, to open a discussion, in her introductory essay, Tangi addresses the most painful, knotty parts of the discussion, including the "relative distain" which some men maintain toward women.
An essay by Sonia Sarah Lipsyc seems to address the core of the tension in
Mehitza
. Speaking of how to address the mehitza dilemma in modern Orthodox settings in the United State, Lipsyc wrote, "Without questioning the principle of the
mehitza
, some of them have attempted to accommodate the space for women during services so that they don't feel marginalized or relegated 'to the back' of the service and of the collective social space. The
mehitza
is not perceived as discriminatory if it doesn't give superiority of one gender over the other, while separating men and women during prayers."
Tangi and the book's other essayists have not given us an easy work. Whether you're a man or a woman, whether you pray in a mixed setting, in a synagogue that maintains strict gender separation or you don't pray at all, this book will give you food for thought.
Mehitza is a coffee table size art book with a high production value. Its heavy hardbound cover is clad in textured, off-white fabric with silver sparkles, contradicting the emotionally charged material within its pages. The book includes a comprehensive glossary of Jewish terms and comes with a translation into French of the essay material.

Ultimately, Tangi argues that separation is not the same as segregation.

Neither is it simple to always tell them apart.
---
Have something to add? We'd love to hear from you. Please comment below to share.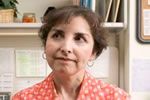 Can and should a woman nominate someone to say Kaddish on her behalf?
See answers from Orthodox, Conservative and Reform rabbis
here
.
If you have a question about Jewish values that you would like to ask rabbis from multiple denominations, click
here
to enter your question. We will ask rabbis on our panel for answers and post them. You can also
search
our repository of over 700 questions and answers about Jewish values.
For more great Jewish content, please subscribe in the right hand column. Once you confirm your subscription, you'll get an email whenever new content is published to the Jewish Values Online blog.